Desktop computers, for the most part, are a thing of the past. Most people, when they are searching for a new computer, are looking for a laptop. The world is becoming more and more mobile, and desktop computers like the new Mac Pro just can't be lugged around that easily. That doesn't mean, however, that the usefulness of a desktop computer has gone away. If you're looking for a way to get the best of both worlds, a MacBook and a MacBook Dock may be your best solution.
The point of a dock is to expand the capabilities of your MacBook so that you can attach a bunch of extra peripherals. You can then simply attach the dock to your laptop, and it transforms into a desktop. When you want to pack up and leave, just unplug the dock, and go. Everything else stays there for the next time you want the big screen experience. So we've searched long and hard for the best MacBook docking stations. Here's what we found.
The Matrox DS1

This is a Thunderbolt-enabled dock, which makes it ideal for a plug and play desktop solution. Plug in your display, printer, and hard drives to the dock, and then plug the dock into your computer via Thunderbolt. Not only does this give you the advantages of the desktop computer, but also it allows you to keep the speed you'd see using internal hardware ($229.00).
LandingZone DOCK 15″ Secure Docking Station
The DOCK is an amazing piece of hardware. Unlike the DS1, it is actually a dock for your computer; slide the computer into the DOCK and it connects to all of your peripherals. Of course there's a downside, in that you have to buy one specifically suited to your MacBook.
The benefit is that you get all the ports you'd get with a desktop computer. It has a ton of extra USB ports, VGA, and more. The DS1 has some ports, but is a bit limited since you have to expand it with Thunderbolt devices, plus there are cords everywhere ($199.00).
Henge Docks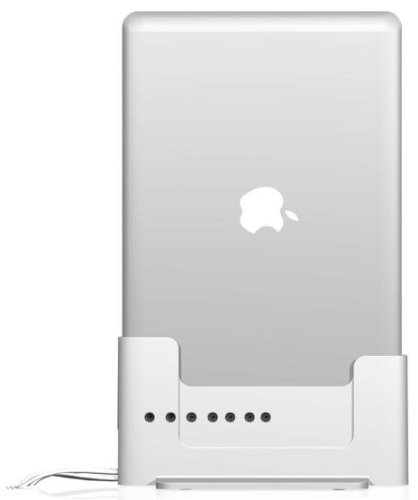 We came to a problem when we found Henge Docks. They make some awesome products and we just couldn't choose. They have a vertical dock, which you slip your MacBook into like a sleeve. They also have a horizontal dock, which allows you to keep using your Mac while it is plugged into the dock. They also make some wonderful docks for the iPhone that go along with their other products ($59.00-$79.00).
The downside of their products is they are a bit pricey. They start at around $250, and they are Mac specific, so you'll need to make sure you buy the one that was made for your Mac.
Bottom Line
The Henge Docks are really cool, so we'd probably recommend those over the others, but it's all going to depend on what form factor you like best. The Henge gives you more desk space, the DOCK is great for when you need to keep using your MacBook, and the DS1 is great when you just want to stick to a minimal profile and expand via Thunderbolt.