Incase's 15.6'' ICON Laptop Backpack is a great tech bag for an office or back-to-school. It's sleek, svelte, and unassuming. The bag has simple but sophisticated design, like its dedicated pocket for both a laptop and tablet. Let's get to a features breakdown.
Features:
The ICON easily accommodates all 15'' laptops in its dedicated padded laptop compartment, lined with faux fur.
Full dimensions: 19'' x 13'' x 9''
Made with heavy 840d nylon.
Main feature: dedicated pockets. Gear pockets, cable/pen sleeves, books pocket, battery pocket, phone pocket, laptop pocket, tablet pocket.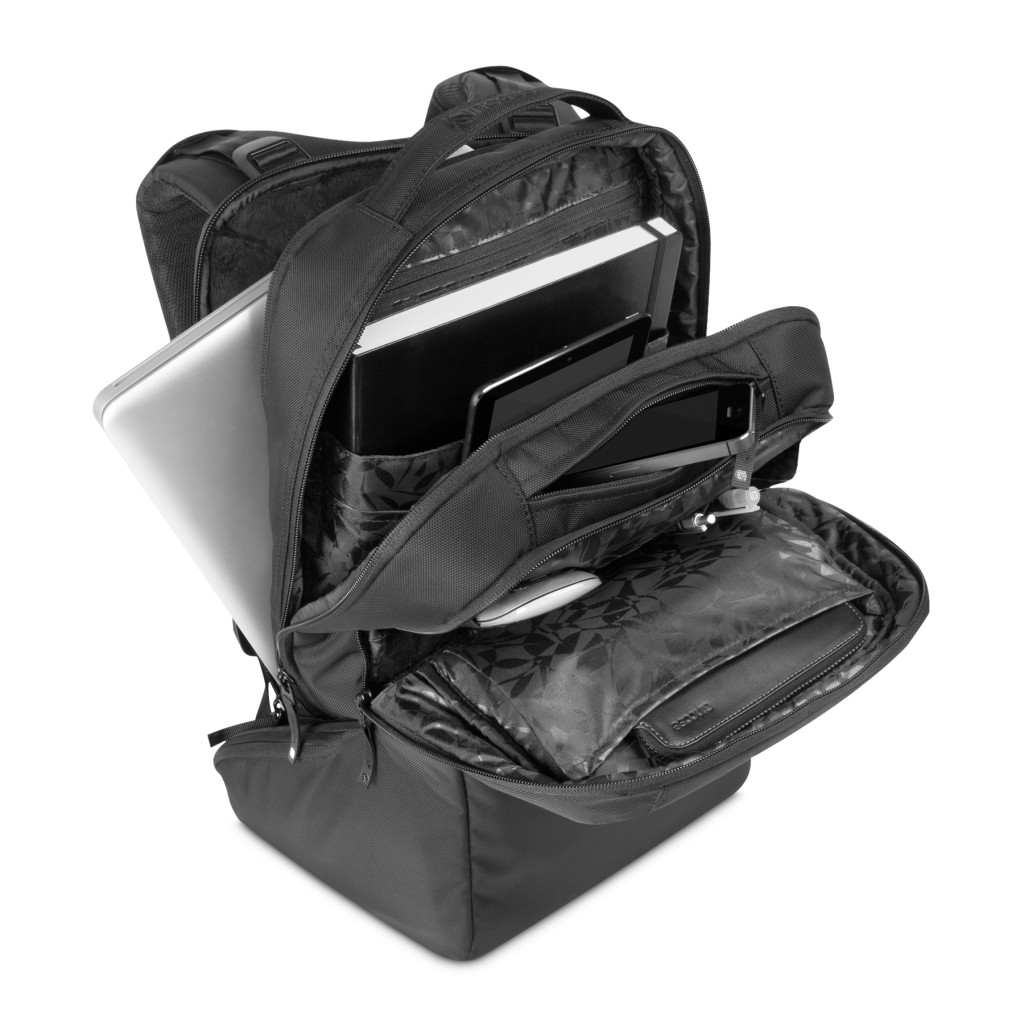 This bag stands out because of the immense amount of thought and care taken in designing the compartments. This is truly the best MacBook Backpack on the market today. The material is durable, but the design is what's key. The bag prevents disorganization by having pockets for everything you'd need, and no extraneous features that take up space. The dedicated tablet pocket is on the side of the backpack, allowing it to be accessed without taking off the bag.
The laptop pocket has a tough zipper, big square edges, faux fur, and padding on the back, for real protection. The book bag compartment is big enough to carry probably three 1'' binders or two large textbooks. In the front pockets, the accessory pockets, there are places for everything one needs to carry, like pens, cords, external drives, notepads, etc., and in the hip pockets there's a compartment designed specifically for an external battery. A hole in the pocket allows a cord to run from the hip pocket into the main bag, for on-the-go charging.
The bag is also very well designed with actual human use in mind, creating the ultimate MacBook Pro Backpack. The square edges of the laptop pocket prevent damage that regular bags can't, and retrieving a laptop from the big square pocket is far easier than fishing one out of a crowded backpack with a traditional rounded, bag-like, top. The shoulder straps are thick and soft, and most importantly contain no pokey edges. The padding on the back of the backpack is tough (to protect the laptop) but is comfortable to wear and has an easy airflow design for those sweaty days.

Overall this bag is perfect for students and professionals who need a solid backpack for MacBooks. People in tech that don't want a briefcase and fans of well-designed accessories everywhere need to look no further. A well-designed bag can turn a hectic commute to a workaday job into a livable peaceable world. Don't believe me? Count the number of times you've seen (or lived) some insignificant frustration, like digging though a bag for headphones, a folder, a hard drive, almost push someone over that 8AM edge.
A well-designed bag just makes organization easier, and that makes mornings and work easier. No more digging in the bottom of a case or bag amidst crumbs and loose pens, and receipts, this bag can regulate. In an age where colorful backpacks with one deep sack for everything to mingle in, the Incase ICON stands out in the crowd as a sleek alternative.