Today most companies are asking us to go paperless and help the environment. Likewise many Mac users are seeing the benefits of going paperless themselves by scanning their important documents: bills, family records, copyrights, patents, insurance policies, identification paperwork, taxes and more. There are somethings you just can't afford to lose, so in case of fire or theft, it's always good to scan documents to a secure hard drive or cloud service.
Not to mention the fun part of scanning – going paperless! No more boxes of paperwork, bills piling up on the kitchen counter or forgetting where you put your car insurance information. When you scan your documents you can keep them organized and searchable. Let's take a look at the best document scanners available for Mac.
Fujitsu ScanSnap iX500 Scanner for Mac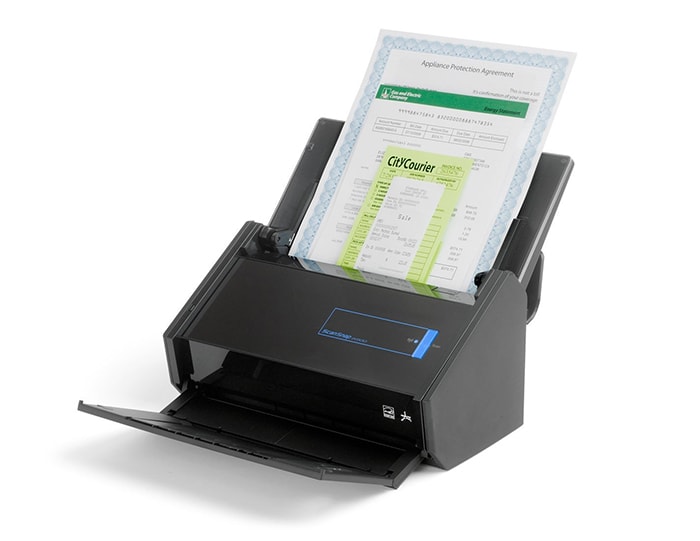 Blazing 25ppm color scanning
Two sided scanning
USB or Wi-Fi connection to a computer
PC & Mac Compatibility
Hands down the ScanSnap iX500 is the most popular wireless document scanner on the market today. For starters it's technology lets you scan a document to your computer or smart device. Imagine being able to wirelessly scan an important document to your iPhone or iPad and more. It scans business cards all the way up to A3 size paper. You can also generate editable PDF files, for example if you wanted to sign a document or mark bills paid. The main benefit to this scanner is it's two sided scanning capability and speed. It's the fastest you can buy. There are no complicated buttons making it the easiest to understand and use. Additionally the unit folds up for when it's not in use. Some are put off by the price at ($417 USD), but when you compare it to similar models, it has a lower price range but has the most features. Not to mention if you use this in a home office on a regular basis it will pay for itself.
NeatConnect Cloud Scanner and Digital Filing System for Mac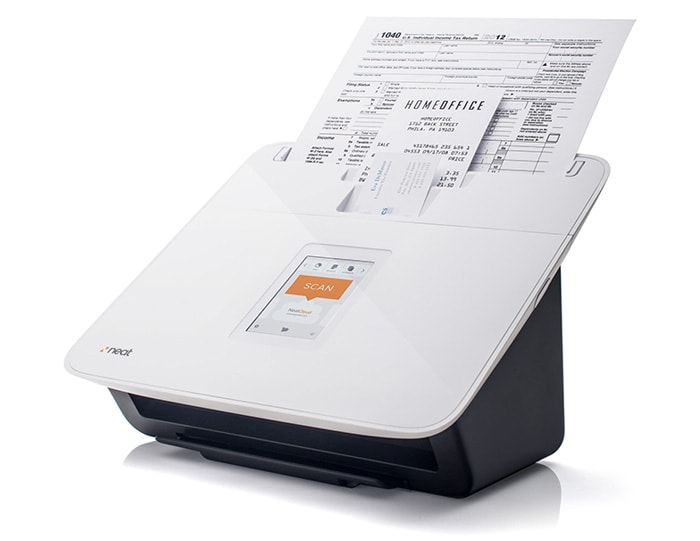 Scan your important info straight to the Cloud, purchase includes 3 free months of NeatCloud (available for a nominal monthly fee after initial trial expiration)
Scan in receipts to create expense reports and searchable databases
Scan in business cards to capture information, send info to address book, sync contacts with your phone
Scan in documents to create searchable pdfs, capture editable text, organize your digital files
Send scanned items as attachments in one easy step right from NeatConnect to email, DropBox, Evernote, ftp, Box.com, etc
This is the best looking personal document scanner we could find but it generally only gets 3/5 stars on most review sites. The NeatConnect Cloud Scanner helps you scan and keep your documents organized. The product comes with a 3 month trial of the NeatCloud subscription, after that you'll have to pay for the service. If you like the idea of having your documents scanned to the cloud, then this is the scanner for you. Many looking for an online scanner or app scanner end up turning to this document management system. Theres even a mobile app available that lets you download and view your documents on the go. If paying for the subscription doesn't sound like your cup of tea, we recommend you scan directly to DropBox – the popular way to store and share files online. Additionally you scan to email if you prefer. To scan to your Mac you'll have to use a USB cable as it is not wireless capable. For ($427 USD) this is a capable document scanner with a lot of cloud features. If you must have wireless scanning you can try the latest model which offers both the cloud and wireless functions but at a higher price ($499 USD).
Brother Printer ADS2500W Document Scanner for Mac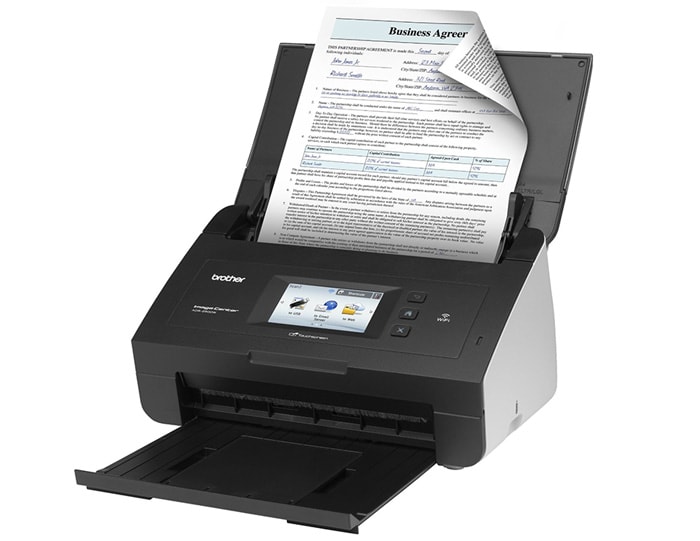 Scans up to 24ppm B&W and Color
Network Connectivity – Wireless and Ethernet. Scan to Cloud, USB flash memory drive, Android phone or tablet, E-mail server, FTP, Network, PC/Mac (Image, OCR, E-mail and File).
Simple, intuitive user interface with 3.7-Inch Color TouchScreen
High quality color and mono scanning up to 600 x 600 dpi (optical) / 1200 x 1200 dpi (interpolated)
TWAIN, WIA, ICA, and ISIS compatibility enables easy setup to scan documents into a variety of applications
The Brother ADS2500W Document Scanner features a bright color touchscreen display, wireless connectivity, cloud scanning, duplex (two-sided) scanning and OS X compatibility. It includes Presto! PageManger for Mac that lets you merge files and monitor your scanned documents to help you get the most out of the scanner. As with most of these document scanners you don't have to use included software but it's nice if you like to try the advanced options available to you. At ($599 USD), it's hard to suggest this scanner over others but if you are used to or familiar with the quality of Brother products this could be for you.
Epson WorkForce Pro GT-S80 Color Document Image Scanner for Mac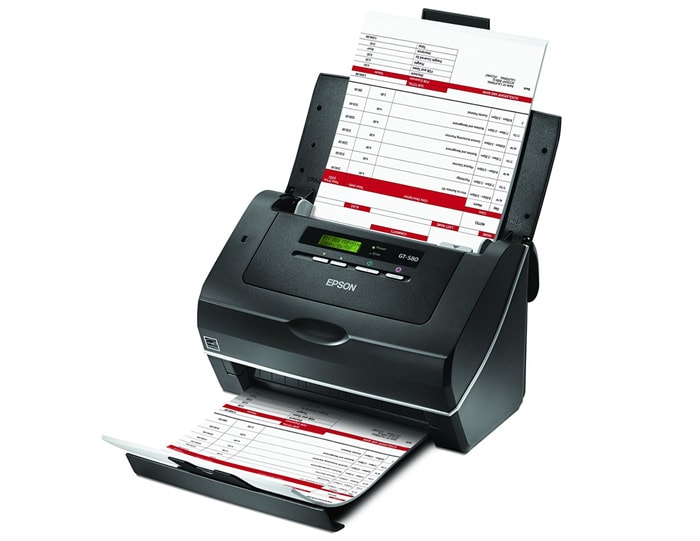 40 ppm, 80 ipm scan speeds1; scans both sides of one sheet in just one pass
75-page Auto Document Feeder
Front control panel with up to 10 user-definable scan jobs including scan-to-PDF, email and more
Epson WorkForce Pro GT-S80 Document Scanner – 48 bit Color – 16 bit Grayscale – 600 dpi Optical
Mfg #: B11B194081
The best feature of the Epson WorkForce Pro high volume document scanner is the 75-page auto document feeder. If you have to scan a lot of documents at once this is the product for you. It doesn't allow for wireless scanning but what it lacks in that area it makes up in others. It should be called the WorkHorse because it lets you customize everything from resolution to file type and can scan up to 1800 documents per day. If you are dealing with financial or legal documents this scanner should be given some thought. At ($664 USD), it's considered the most expensive but it is meant for a heavy workloads.
Bottom Line
There you have it the most popular document scanners for Apple computers. If we had to pick the most versatile all-around document scanner to buy it would be the Fujitsu ScanSnap iX500. The ScanSnap has the speed, wireless functionality and most importantly ease of use. As we mentioned before going paperless, by scanning your documents, frees you from paperwork and helps you and your family create a secure place for your important life documents. These document scanners are especially important for people who work at home or run a business and need to know how to scan a document. Have you bought a document / receipt scanner recently? How has it affected your business or productivity?