The Apple MacBook early version, specifically 2011 MacBook Pro, has been on the receiving end of complaints about graphic failures and systematic crashes. The problems began to appear in 2013 and as of last year, authorized Apple service providers were still accepting MacBook repairs and now that the new and reinvented Apple MacBook is out, expectations are high that old issues will have been addressed and settled.
The new MacBook was unveiled last March 9 during the Spring Forward Apple Watch and is called "New MacBook 2015. It will be available for retail on April 10 through authorized dealers, the Apple Online Store, and Apple retail stores. It is a notebook that weighs 2 pounds making it the lightest MacBook as well as the thinnest at just 13.1 mm.
According to Philip Schiller who is the SVP for Apple's Worldwide Marketing, almost everything about the MacBook has been reinvented. Some of the changes include an ultra thin Retina display, fanless design, a new Force Touch trackpad, new battery design, a super thin full-size keyboard, and a USB-C port. This USB-C port means there is only one single connector so you no longer need separate ports for charging, video out and data transfer. The most shocking for many though is the price tag at around $1,570 for the 1.1 GHz model and up to $1,954 for the 2.6 GHz model.

The specs for the New MacBook are:
Intel Core M Model with Turbo Boost speeds of 2.4 GHz for the lower-priced model and 2.6GHz for the higher-priced model
8 GB memory
256 GH of flash for the lower-priced and 514 GB for the higher priced model
5th generation Intel HD Graphics 5300
2304 x 1440 pixel Resolution
812.11ac Wifi
Bluetooth 4.0
Butterfly mechanism on the keyboard
35% better battery capacity and 30% less energy consumption without sacrificing display brightness. Battery is capable of 9 hours wireless use and 10 hours of movie playback
Available in silver, Space grey and gold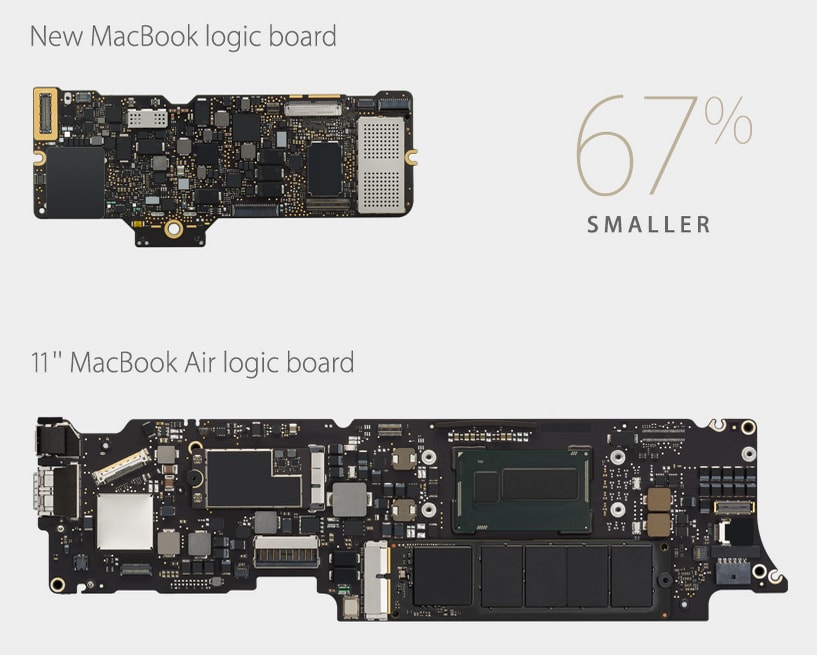 The Force Touch Trackpad is one innovation likely to be pleasing to users because of it deep click feature which can fast forward videos or be used to force click to launch apps. You can also customize the trackpad by changing the amount of pressure so that every gesture or click on the trackpad will mean a specific command assigned by you to fit your personal preferences.
Most impressive is the fact that there are no more moving parts on this New MacBook 2015. This will mean greater efficiency and a very quiet, noiseless device.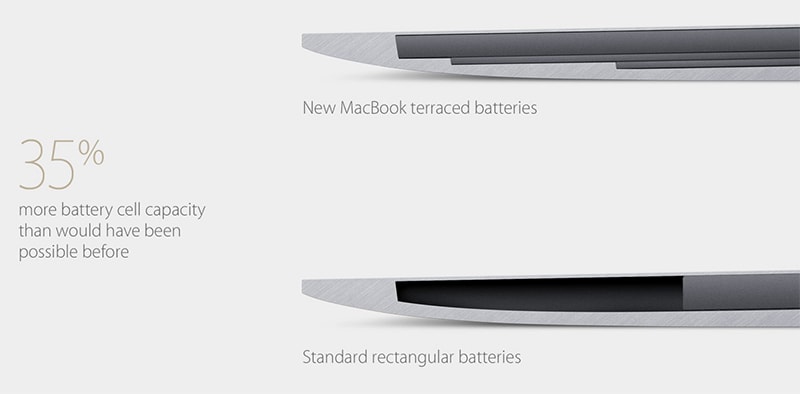 As far as old issues on crashes and graphic failure, Apple has addressed these and one can expect to have fewer issues moving forward. We'll have to wait until the April launch for testing. For the user who needs a powerful light notebook, this new 12″ MacBook could be the answer.