Incase's ICON Sleeve with Tensaerlite for MacBook Retina is a great case and another addition to Incase's awesome Mac lineup. The case comes in 13'' or 15'' models, and is most notable for two things, it doesn't have a zipper, and it features Incase's Tensaerlite technology. And, the two incase traditions, neoprene and faux fur, are featured in this item as well.
In the past, Incase has made good laptop cases for Mac, but they've always had a vulnerability to being dropped. Tensaerlite, the multilayered shock-absorbing rim that runs around the case, solves that problem. Tensaerlite is a lightweight bumper frame that feels like a tough rubberized material.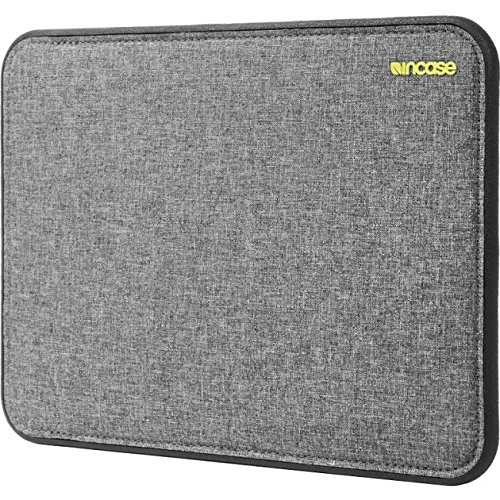 Incase says this gives the case "maximum impact absorption". Tensaerlite also helps aesthetically, a thin rim around the slim case. The dimensions are 16'' x 11 x 0.5'', so this case is very thin. This product is not designed to go with hard shell cases, only naked Macs.
If you do use your Mac without a hard shell case, the ICON Sleeve is absolutely a great and beautiful choice, helped in no small part to the second amazing feature of the case: no zipper! The zipper, prone to breaking entirely, leaving laptops to plummet earthwards, is replaced in the ICON Tensaerlite case by a strong (and computer safe) magnetic flap. The flap is slim, so the computer fits in snug and doesn't fall out (there's also a tough magnetic clasp bit).
This design feature is truly beautiful. And, while the sleek magnet flap is a gorgeous feature and crucial to this design, it should be noted that laptops should not be left on top of the sleeve because that suit-like flap is held together by a magnet that may trigger your Mac to spontaneously turn off. This, however, is a minor drawback to what is undeniably a beautiful and functional case.