Imagine: an entire month of free concerts in one of the greatest cities in the world! Since 2007, it's been an annual reality thanks to Apple. The beloved computer and smartphone manufacturer has delighted a countless number of people with their iTunes Festival, held in London each September. They're currently at the end of the series, and once again it's proving to be exciting, memorable and incredibly fun.
The iTunes Festival is sponsored by Apple, who make free tickets available to all UK residents through a series of online and in-app prize draws leading up to the event. For those who aren't lucky enough to attend, each performance is streamed live online and available to view again afterwards on iPhone, iPod Touch, iPad, Mac computers and on television via Apple TV.
Each night in September features both an emerging artist, who takes the stage at 8:00pm and a veteran headlining act, who comes on at 9:00pm. The inaugural performance, in 2007, was held at the renowned ICA, an arts and cultural centre near Trafalgar Square in the heart of London. One of the first artists to perform was Amy Winehouse, who was at the peak of her success and dazzled the audience with her unique vocals.
In 2008, the festival moved to KOKO, in London's Camden Town neighborhood. And since 2009, it has found a comfortable home at the venerable Roundhouse, also in Camden. Over the last weekend, the festival also coincided with multiple concerts, benefits and celebrations held around London and centered in Camden Town to mark what would be the thirtieth birthday of the late Amy Winehouse and benefit the charitable foundation established in her name.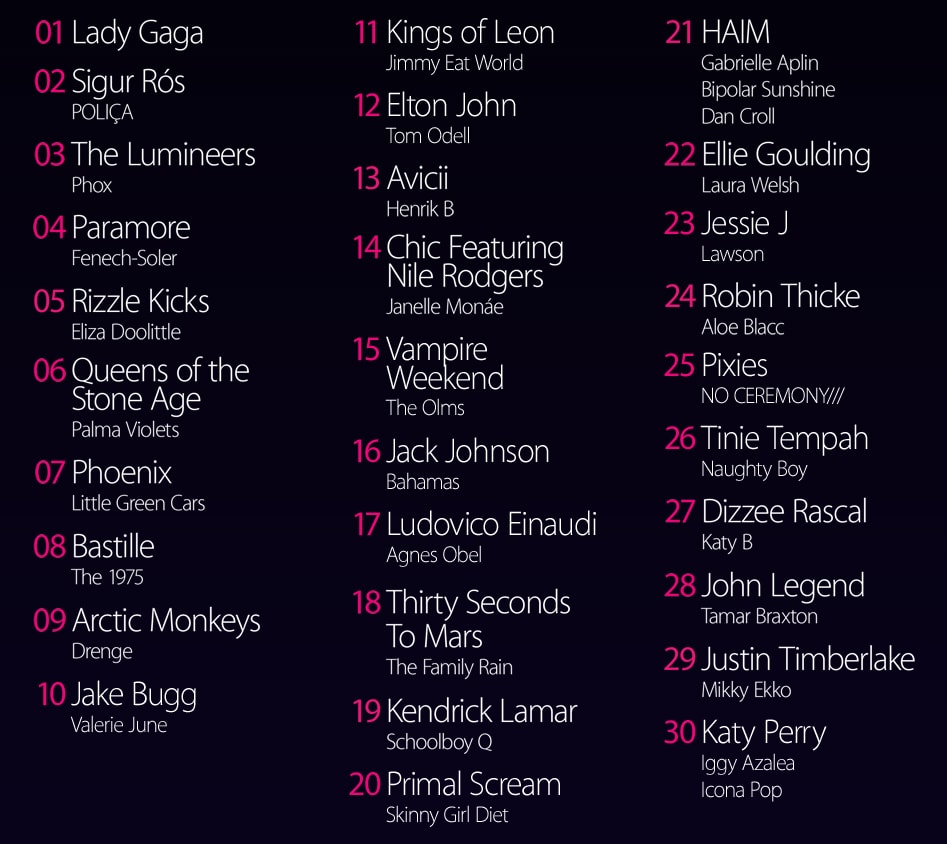 This year's iTunes Festival features up and coming artists like Drenge and Palma Violets as well as superstars such as Jack Johnson and legendary bands like Pixies. As in previous years, it seems that the artists are doing their best to live up to Apple's promise of an epic, unexpected and unforgettable festival. Reports indicated that they're getting creative and having fun with their performances, and reviews have overall been extremely positive. A great example of this is 2013's festival opener, Lady Gaga, who debuted a performance of entirely new and previously unheard material.
With Apple being the smartphone, tablet and computer brand of choice for millions of consumers worldwide, their success has increased exponentially over the past few years. Cynics may be quick to write the iTunes Festival off as a marketing tactic designed to encourage the public to buy their products, and it's true that Apple will of course benefit from sponsoring this series of events.
However, it is also a prime example of how the company does things a little differently. The annual iTunes Festival is creative and innovative. This massive event doesn't just feature popular mainstream artists. It contributes to Camden Town's rich musical and artistic culture and offers incredibly good exposure to new and lesser-known musicians. Furthermore, it's a nice way of giving a little something back to those who are so loyal to the Apple brand.