With the debut of the iPhone 5s and the iPhone 5c, the tech world is buzzing about Apple once again. Seeing as the company was eager to prove they can still innovate, it's no surprise there is a whole host of new features on each of the latest iPhones. Whichever you pick, the 5s and 5c both offer something extra over the iPhone 5. So are you seeking the latest and greatest in smartphone technology? Or are you after something that offers great features, is hip, affordable and as Apple puts it, "for the colorful?" If you're not sure yet which iPhone suits you best, it may be helpful to consider what the 5s has that the 5c doesn't.
A7 chip
With it, Apple has become the first smartphone manufacturer in the world to offer a mobile device with 64-bit architecture. Paired with the M7 motion coprocessor, it means the CPU and graphics performance of the iPhone 5s is up to two times faster than its predecessor. Think of it as desktop computer-class architecture packed into a sleek, super slim smartphone. Best of all, the new iOS 7 was designed specifically with the A7 chip in mind, maximizing performance and functionality.
Touch ID fingerprint sensor
Centered on the iPhone's home button, which on the 5s is made of sapphire crystal, it reads the ridges and patterns in your print and functions accordingly, providing an unprecedented level of security for locking and unlocking your device. Touch ID technology can also be used in place of a traditional password to make purchases through iTunes, iBooks and the Mac App Store. Fingerprint data stored within the iPhone 5s is encrypted and saved securely in the A7 chip, where it is locked away from everything but the touch sensor itself.
Better iSight camera
Now with 8 megapixels and an additional 1.5-micron pixels, the iPhone 5s camera boasts True Tone flash for both still photographs and videos, automatic image stabilization, burst mode and slow motion video features. Those who thought previous iPhones had cameras of a high enough quality to replace their traditional point-and-shoot digital cameras are sure to be amazed at the improvements offered in the 5s.
Thinner and lighter design
With many rumors circulating that the new iPhone might be even larger than the 5, or that Apple might release a Samsung Galaxy-style "phablet" similar to the Note, a sleeker smartphone was a pleasant surprise. The iPhone 5s is 4.87 inches tall, compared to the 5c at 4.9 inches. It's 2.31 inches wide, where the 5c is 2.33 inches. It's also 0.3 inches deep, compared to the 5c at 0.35 inches. Even better, it weighs just 3.95 ounces, while the iPhone 5c is 4.65 ounces. All this incredible technology, and it's still smaller and lighter.
Heftier price tag
As expected, the iPhone 5s doesn't come cheap. A 16GB model is $199 with a wireless contract, or $649 unlocked. By comparison, a 16GB iPhone 5c is $99 on contract or $549 unlocked. The 32GB 5s is $299 on contract or $749 unlocked, while the 32Gb 5c is $199 with a wireless plan or $749 without one. Furthermore, the iPhone 5s is available in a 64GB model for those who have a lot of data to store on their smartphone. It weighs in at $399 on contract or $849 without. There is no 64GB iPhone 5c.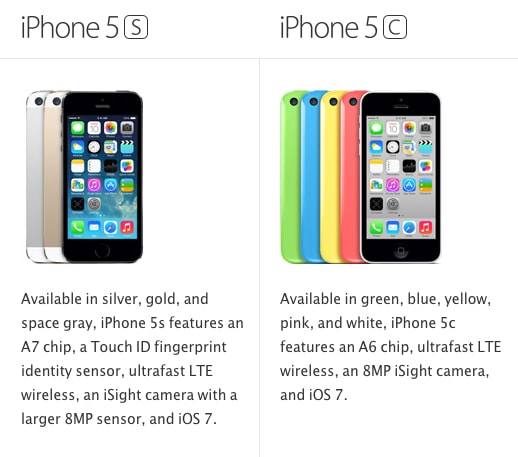 Which iPhone you choose will likely depend on both your budget and the features you can't live without. If you must have Touch ID and the new A7 chip, but don't require a lot of data storage, you can save a lot of money by choosing a 17GB or 32GB model. However, if you just want a smartphone that offers some of the latest technology, is fun and comes in a range of attractive colors, the 5c is a great option that won't break the bank.
More Articles from Macmint