While it's likely that we'll once again see lines of people stretching around the block, waiting to be amongst the first into their local Apple store or big-box electronics retailer for the new iPhone 5s or 5c, for some people having the absolute latest and greatest isn't as important.
Just because the new iPhone is about to be released doesn't mean that the current iPhone 5 is junk. It's still a technological marvel and will meet or exceed the needs of many people who purchase it. And if getting a quality smartphone at a smart price is more enticing to you, now is the time to get an iPhone 5. Although now discontinued, wireless carriers and retails shops are clearing them out in preparation for the new models, and there are some real bargains available.
If you're looking for an unlocked iPhone with no strings attached, then EBay is a good place to turn. Depending on the model (16, 32 or 64 GB) an iPhone 5 will cost you approximately $300.00 to $500.00 there, which means you can pick a slightly used one up for half the price it was new.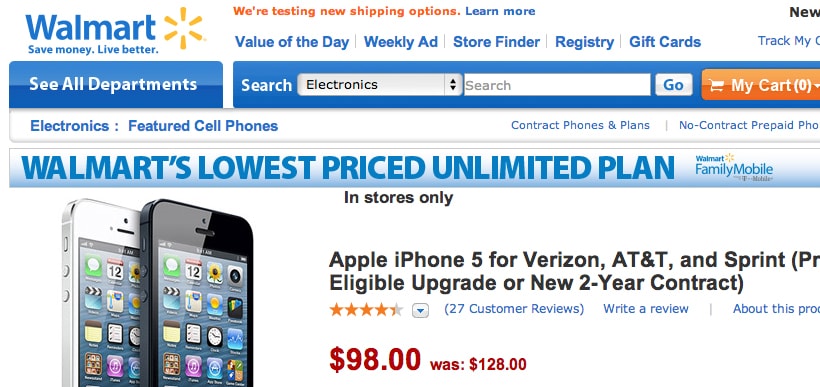 However, if you don't want to buy used or you'd rather be cautious and deal with a local retailer, WalMart, Best Buy and Target are offering great deals. WalMart has the cheapest iPhone 5 deal going, with a starting price of just $98.00. They aren't refurbished products, either.
Best Buy is offering the same phones for $149.00 with reports of further, periodic discounts coming. They have also been running a buy-back promotion. Anyone who brings in a working iPhone 4 or 4s can upgrade it to an iPhone 5 at half the price. Target is also offering the iPhone 5 for $149.00 in their electronics departments.
An important bit of information to keep in mind, however, is that these prices are available to consumers who sign a two-year minimum contract with a participating wireless carrier such as Verizon, Sprint or AT&T at the time they purchase their iPhone 5.
Another nice bonus currently being offered is directly from Apple itself. College students who purchase an iPhone 5 directly from the computing giant will be awarded a handy $50.00 iTunes gift card. That will provide the ability to download many of the latest study aid and productivity apps which will help with school – or perhaps a few movies and songs.
A riskier option that is still popular with many people is looking for an iPhone 5 on websites such as Craigslist. Many people will take the upgrade when it's offered by their wireless service provider, with the intention of making some money rather than using a new device themselves. They turn around and sell like-new iPhone 5 models online and frequently offer them at great prices. Of course, the protection of purchasing from a retailer isn't there, so it's buyer beware. Do your homework and know what the model is going for and whether it actually works before you hand over any money.
Furthermore, it is also possible that further discounts on the iPhone 5 will be offered by retailers now that the September 10th event has come and gone. Now is the time to save even more on an iPhone 5 when everyone else is buzzing about the newest 5s and 5c models. If you currently own an iPhone 5 consider selling it for top dollar now before its value decreases.