Apple Inc. is always on the cusp of the latest and greatest innovation or at least an upgrade from the latest and greatest, that many people chomp at the bit just to purchase. Well, the Apple iPad is one of those great innovations. Rumor has it that Apple will soon be launching its new iPad version. And this rumor also says, apparently through the hidden codes embedded in the new iOS software, that these new iPads will have some special features. These rumors were leaked from sources outside of the Asia technology market.
Looks like the next iPad is getting Touch ID pic.twitter.com/HuqrJrYE58

— Hamza Sood (@hamzasood) September 30, 2014
These special features include: Touch ID, Apple Pay and a large viewing screen. These things are all good news for iPad lovers. This next generation of iPads will be formally announced this month. The iPad market does not have as large a turnover rate as Apple iPhone. Basically, people don't purchase a new iPad as soon a there is an upgrade, like they do with their cell phones. Because of this, Apple has seen quite a drop in sales for the iPad for the first quarter of this year. With these new iPad features, Apple is sure to earn more sales by enticing potential buyers. The potential buyers that Apple is honing in on are businesses. This past summer, Apple agreed to a deal with IBM to sell iPhones and iPads pre-loaded with apps. This will be a win-win situation for both Apple and IBM.
Apple Pay, Possible NFC Payments?
Many iPad fans are already excited about the Touch ID, or fingerprint scanner, that will enable users to pay for any item with the touch of a button and without typing in their credit card number via Apple Pay.
The first time Apple introduced Touch ID to the world was through its iPhone 5s, and no other Apple device had it. Apple's new iPhones also have this fingerprint scan features. No iPad, however, has ever had this feature. The new iPad will be more user friendly and invite new potential buyers with features like the fingerprint scan.  It is however, still a rumor that the new iPads will have NFC functionality, because in order to do this the user will have to enable Wi-Fi.
Larger Screens
Having a larger screen is another suspected bonus feature. The larger screen will provide the perfect viewing for the multi-tasking screen that will be in the new iPads. This multitasking screen will allow users to have more than one app or game open at one time. This double screen feature is not anything new to the world of technology. It has always been a feature of Microsoft products like their tablets. This is sure to be seen as a benefit for iPad users. Also, the large screen will still be streamlined, thin and esthetically pleasing as reported on TechNews. It will look a lot like its predecessor the iPad air. As well, an added keyboard feature may come with these new iPads, but it is not confirmed as yet.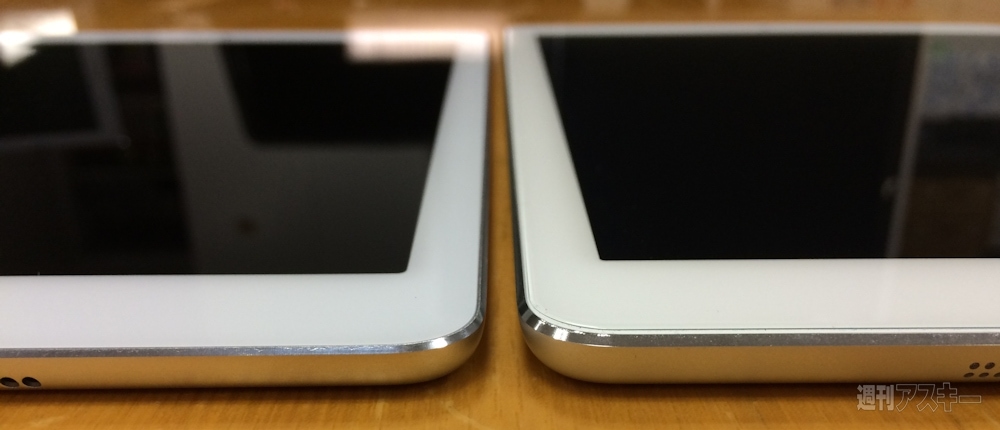 More Storage
Finally, we saved the best for last. One of the best new features in the new iPad will be its larger storage capacity and a faster processor. Users will be able to store more information, more pictures, more games and apps. The new Apple iPhone 6 and the iPhone 6 Plus, both have a larger capacity and faster processor, so the new iPad will follow suit with these latest versions of the iPhone. This new larger capacity and storage will also be great for storing lots of music and videos.