Apple's latest announcement event revealed many new developments, but none more prominent than the changes to the iPad and iPad Mini. Just in time for the holiday shopping season, the tech giant has come out with a revamped, renamed full-size tablet as well as an upgraded miniature version.
The latest-generation iPad, now called the iPad Air, is thinner and lighter than ever. At a mere 7.5 mm thick it's 20% more svelte than the previous model. For those who recall how compact the first iPad seemed, just a few years ago, the iPad Air makes it seem like a cinder block in comparison.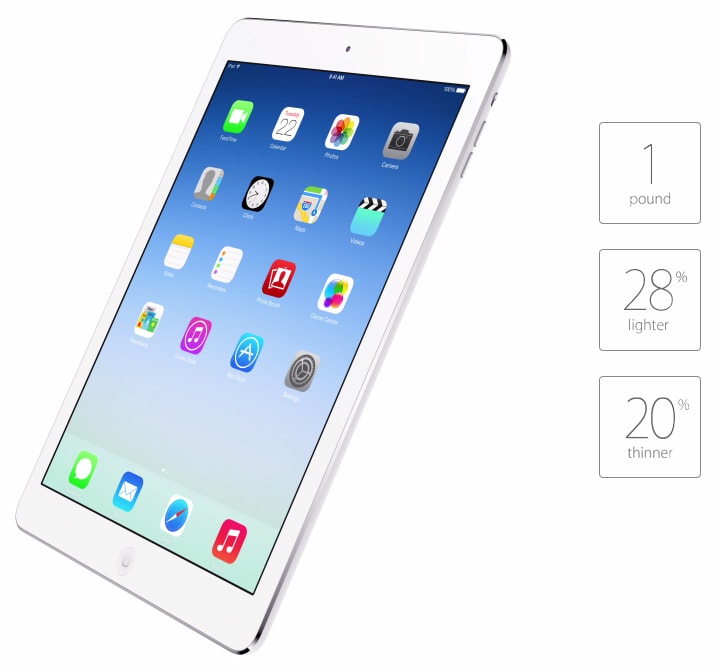 Other features that make it the iPad Air awesome on the outside include its brilliant 9.7-inch retina display and choice of colors – consumers can choose whether they want a silver and white model or a space grey and black one.
But it's not just pretty to look at. The iPad Air is also, of course, faster and more powerful than the last iPad. Taking a cue from the stunning iPhone 5s, it features the incredible A7 chip and M7 co-processor with 64-bit architecture. Whether you commonly use your iPad to watch Netflix, play the new CSR Classics or edit iWork documents, this makes it the ultimate, portable media centre, gaming console and on-the-go work machine.
Other updates for the latest iPad include a 5 MP iSight camera, which can shoot 1080P quality video, and MIMO technology, which includes multiple antennae in the iPad Air for improved Wi-Fi reception.
At $499 for a 16GB Wi-Fi-only model, $629 for a 16GB Wi-Fi and cellular edition or $799 for the brand new 128GB one, the new iPad Air isn't cheap. However, the updates increase its computing power and make it a realistic alternative to a laptop for ultra-portable computing.
Apple has overhauled the handy little iPad Mini, too. Though not as powerful as the iPad Air, or even the new iPhone 5s, it has been upgraded to feature a 64-bit A5 processor. Consequently, it's four times faster than its predecessor. It also has eight times the graphics capabilities.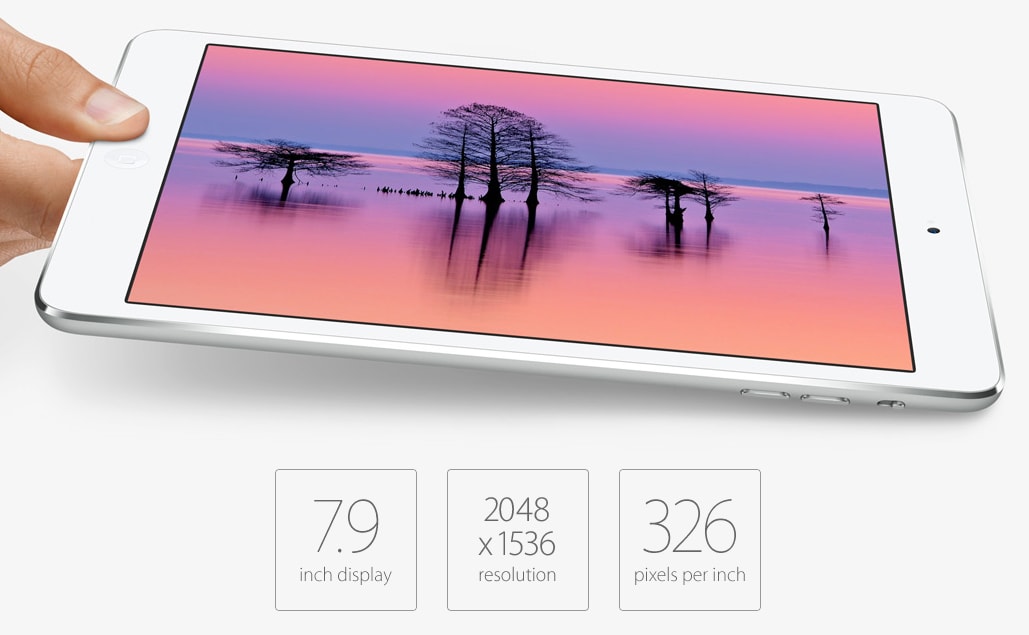 With a 7.9-inch retina display, 5 MP, 1080P iSight camera and 10 hours of battery life, the iPad Mini is no slouch. In fact, it may become the common option for the average consumer who's after a tablet to play games and check Facebook on but doesn't require something as powerful and expensive as the iPad Air.
At $329 for a 16GB Wi-Fi-only model or $529 for one that also includes cellular, the iPad Mini is easier on the wallet than the iPad Air. With its upgraded technology and lower price point, it's likely to become a hot seller this holiday season. Whether you have a technology fanatic in the family, or even just someone who'd appreciate an e-reader that can do more than just store and display books, the iPad Mini is a popular choice.
While the iPad updates that did come out of Apple's latest event were certainly buzz-worthy, there were a few rumored announcements that never got made. Among them was the noticeable lack of a gold iPad to coordinate with the gold iPhone 5s. More importantly, however, there was no upgrade to fingerprint-sensing Touch ID on the iPads just like the new iPhone 5s. Furthermore, many tech experts expected Apple to come out with smart covers that contain keyboards, similar to the Surface tablet, but those were skipped over as well.
Perhaps Touch ID and other updates that were missed this time will be included in the next iteration of the iPad. Regardless, the iPad Air and new iPad Mini are sure to have people lining up outside Apple stores worldwide very soon.
More Articles from Macmint