Developers and public beta testers across the world received access to the fourth release of the iOS 9.1 Beta. This publicly accessible beta comes just one week after the last build. The new 13B136 beta build can be obtained via Apple's over-the-air update service, and is also located through the Apple Developer Center.  Users should however be advised that once you update to iOS 9.1 there is no going back. Downgrading is not supported. This fourth beta update is roughly 1.4GB, bigger than most supplied by Apple.
Vast Performance Benefits
This OS is much quicker than previous versions, with applications such as Safari and Spotlight opening lightning quick and run smoother than ever. App delays in general appear to be gone. Camera opening and response sees slight improvements. A new suggestions feature has been added in this release. Located as "Battery Life Suggestions" under "Battery" in your "Settings, you can choose to automatically disable background Apps after a chosen period of time, saving you battery life.
Please note that this context menu will not be accessible if you have optimized your device already. iOS 9.1 also features compatibility updates for the fourth generation of Apple TV, as well as the new 12.9" iPad Pro, rumored to be launching in the first week of November. This in turn brings updates for the Apple Smart Keyboard and their new improved stylus, the Apple Pencil. Unicode 8 support is also supplied by this update, as is the ability to disable contact photos.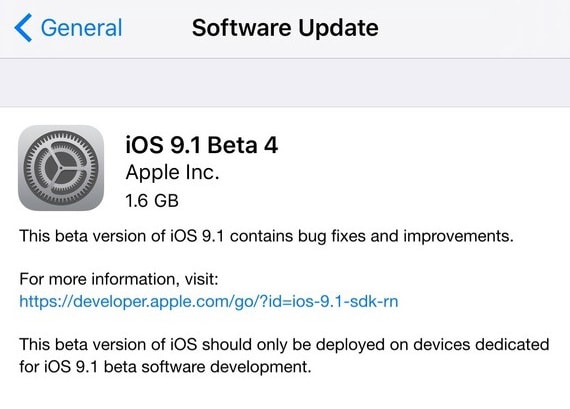 Great Performance & Functionality
Overall the fourth beta of iOS 9.1 is a fantastic success and a vast improvements over prior versions. Users across the world are reporting fantastic functionality and a great boost to the speed of your device. The enhancement provided by this beta update has been long overdue, although minor details still need to be addressed. Problems appear to be isolated and not directly operating system related. Anyone who wants a sturdy replacement operating system is encouraged to update to iOS 9.1 beta 4, but be warned, update servers appear to be very busy due to the large demand and traffic congestion resulting in slower-than-normal download speeds can be expected over the next few days.