The truth is yet to be known, however it seems that Apple has been having several major problems with recently released software and hardware, at least more than usual. There are the severe bugs in iOS 7, which have yet to be fixed, Mavericks has been a mess especially for Gmail users, and the new MacBooks have had several problems.
One of those problems is about to be fixed. 2013 MacBook Air owners have been experiencing intermittent issues when the computer goes to sleep and/or wakes up. Sometimes the computer crashes completely, sometimes it just freezes, or users are presented with a black screen.
This has led to some extremely lengthy threads on the Apple Support site.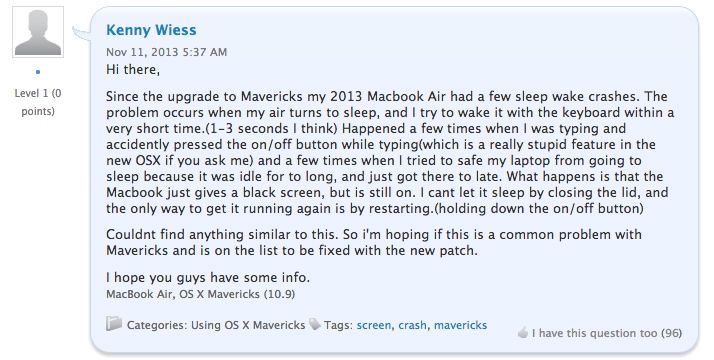 These problems have gone unresolved since at least November of last year. It looks like the problem is related to a Mavericks (OS X 10.9) bug, which causes the keyboard and touchpad to miscommunicate. It also seems to be only affecting a small percentage of users.
Clever and ambitious users have been able to re-create the issue by pressing the power button, and clicking the touch pad immediately. Which has led to the conclusion that something is going wrong with the way the software communicates clicks during the wakeup/sleep process.
A Fix is Coming
Apple is already deep into development of the next software update for Mavericks. They released another seed of OS X 10.9.2 to developers earlier this week. According to an Apple Support Representative, the fix for these problems will be included in that update, as long as nothing crops up that prevents the fix from being deployed between now and the update's release.
Developers who are using the beta, which is now in its fourth iteration, have claimed that the problem has been completely fixed. It looks like Apple did this by preventing the computer from going to sleep when the power button is pressed accidentally. Whether or not this solves the problem for all users will remain to be seen.
How to Get Around the Problem Now
If you are experiencing this problem, there seems to be only one work around that works, and that is to do a hard restart of your computer. To do so all you need to do is press and hold the power button.
The question is when will Apple release the patch with the fix? The answer, as always when it comes to Apple, is when they think its ready. It could be tomorrow or it could be a couple months away. Logic seems to indicate that it will be sooner rather than later, as it is at beta 4 at this point, so it has to be getting pretty close. Bold prediction: expect the update to drop in March alongside iOS 7.1.