One of the most popular electronic devices among children is the Apple iPod. Which leaves parents asking the popular question – What is the best iPod for kids?
Lets face it… kids today are better at operating electronic devices than some adults. Children are always adapting quickly to modern technology and new devices. So its natural for a parent to second guess themselves when buying electronics for children.



Currently you have three options when purchasing a kids iPod – the iPod touch, iPod nano or iPod shuffle. Lets review each and find the best iPod for kids.
iPod touch

Most expensive
Largest Screen (4″)
Only iPod with Camera
Wireless/Bluetooth Capable
iOS Software
If you were to take the Apple iPhone and remove the phone capabilities you would in fact have an iPod touch. Though because it has wireless capability you can send iMessages and make calls via FaceTime as long as you have a wireless connection. The iPod touch is the flagship iPod, the top of the line, the best. If money is no issue this is the iPod for you.
It comes with the latest iOS software built-in just like the iPad or iPhone. So if your child is already familiar with those product they will have no issues. Additionally iOS allows you to download apps to your iPod, for children this means mostly games and educational apps. The iPod touch allows for parental controls so you can limit what your child has access to, a big plus for parents of younger children.
The iPod touch takes beautiful photos and video and is the only iPod to do so. The iPod touch price range is between $199-$399 depending on the amount of storage 16GB-128GB. Given that, the iPod touch is the best iPod for kids who are crazy about music, video, photos, games and apps but are not yet old enough to be given an iPhone.
iPod nano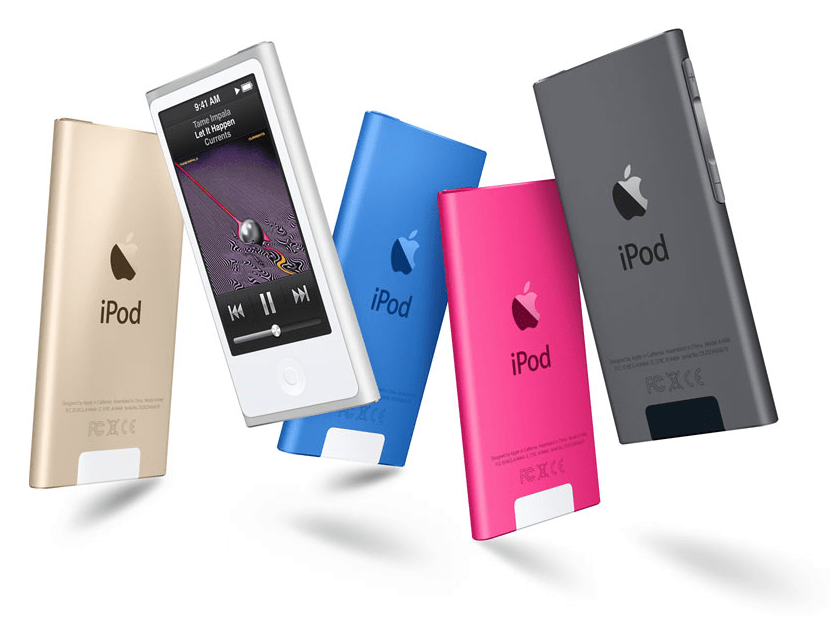 Mid-Range Price
Smaller Screen (2.5″)
No Camera
Bluetooth Capable
Generic Built-in Software
The iPod nano closely resembles the iPod Classic (now discontinued) in that its main objective is to play music. Theres nothing too fancy about this iPod however it does have some unique features.
The bluetooth connection allows you to connect to other devices say your car radio or home entertainment system. So if your child is begging you to play their music in your car, the iPod nano has no problem allowing you both to sing along. Speaking of radio it comes with FM radio built in. It also comes with Nike+ support so you can get your child interested in fitness early and teach them to track their fitness goals.
Your child will be able to store images and watch videos but the iPod nano does not have a camera to take videos or photos. The main objective of the iPod nano is to allow kids to store and play music and even podcasts. If your child has no desire to play games and download apps but wants to be a DJ, then the iPod nano is for you. Reasonably priced at around $149 the iPod nano is the best iPod for kids who love music.
iPod shuffle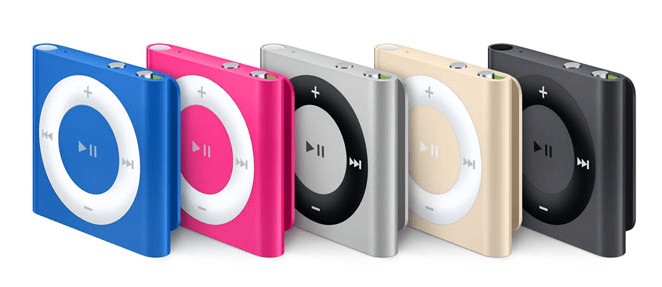 Lowest Price
Smallest iPod
No Screen
No Camera
No Wireless/Bluetooth
No Built-in Software
The main feature of the iPod shuffle is its size, about 1″ square. If your children are active and play sports the iPod shuffle includes a clip which will allow them to keep playing to their favorite songs. This is about as simple as a modern device can get.
The iPod shuffle plays music in two ways either by "shuffling" or playing yours in order, thats it. If you or your kids are good with iTunes you can sync playlists so that songs go in the order you prefer. Additionally, you can turn the volume up and down or move to the next/previous track that is about it.  It's only standout feature is the VoiceOver button which lets you hear the names of the songs. At $49 the iPod shuffle is the best iPod for kids and parents on a budget.
Bottom Line
Simply put we recommend buying the iPod touch. The iPod touch has the most features and benefits and generally is the best iPod for kids. Additionally the iPod touch has the most accessories available. If you are on a budget and looking for a children's iPod the nano and shuffle are great low cost options.
Thinking about an iPad or Tablet?  Check out our article about the best iPad or Tablet for kids here.