If Intel's roadmap is any sign, Apple may soon be readying an upgrade for the Mac Pro. The professional machine, Apple's most expensive device, was redesigned last year. When it was released in the fall, the computer saw shipping delays due to extreme demand.
The new Intel processors, nicknamed "Grantley", are significant upgrades over the current generation Xeon E5 V2 chips that are currently used in the Mac Pro. The new chip is expected to ship en mass to computer manufacturers like Apple in September. 
While the chip comes with a higher thermal rating than the current processor, it's unclear what affect that would have on the heating structure and capabilities of the uniquely designed Mac Pro. The Mac Pro uses a cylindrical design that forces heat produced by the machine towards the top of the tower.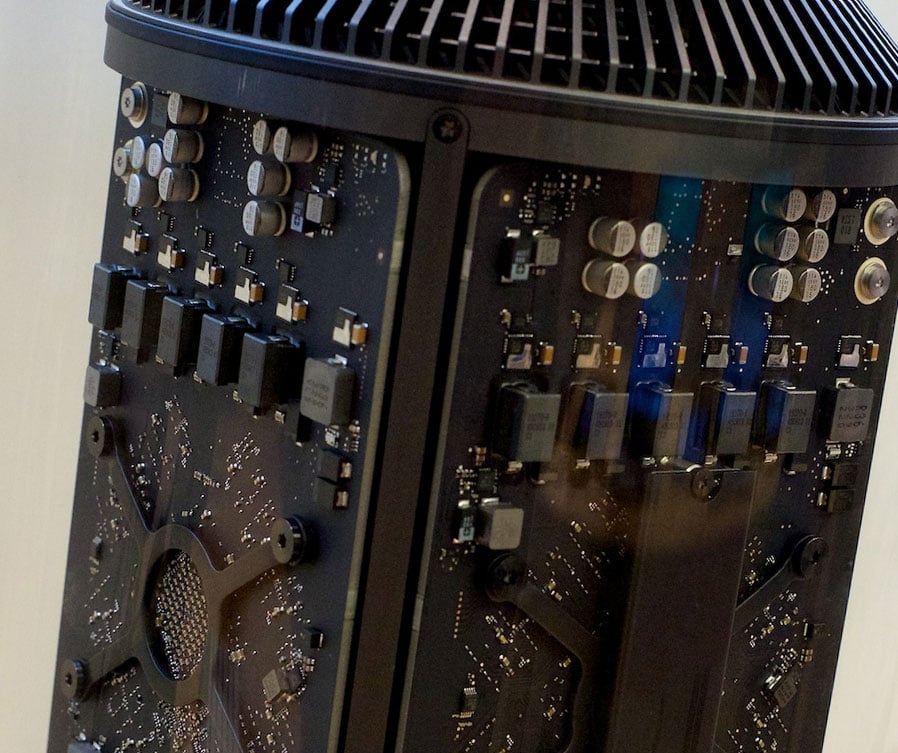 The processors will come in several variants, ranging from a 4-core 3.5/3.7 GHz to a 18-core processor which is much less likely to see use in an Apple product. Previously, the biggest processor Apple has included in a Mac Pro was 12-cores in the last generation Mac Pro that maintained the classic cheese grater design. The current Mac Pro can be upgraded to an 8-core 3.0 GHz Xeon Processor (v2). 
Other signs for a newly upgraded Mac Pro have been appearing as well. The graphics cards that are used in the current Mac Pro have recently been updated by AMD. The new cards, named the W7000, the W8000, and the W9000 roughly equate to Apple's current use of the D300, D500 and D700. Apple's designs are customized specifically for the Mac Pro; the new designs are used on the Windows platform.
The new graphics cards are said to feature 40% more stream processors, making it faster to render 4K video in real time, as well as improved clock speeds for the VRAM. There isn't any word on the thermal rating, which could be a factor in Apple's decision on the next gen Intel chips.
Timing
Other than the rumors listed above, there have been no rumors as to when Apple could announce this new Mac Pro upgrade. If tradition holds, the announcement will be made sometime in the fall, and probably in a press release. Apple has a habit of announcing minor spec upgrades through press releases, reserving the stage for the larger upgrades and redesigns.
With the new Intel chip expected out in September, it is entirely possible that the Mac Pro gets upgraded near or at the October Apple Event, which is highly expected to be focused on the iWatch and new iPads.