Apple's CEO Tim Cook is an innovative voice that is quickly listened to by many when he speaks. So, when Tim Cook spoke at the UN Climate summit in NYC admonishing companies to make a larger gesture and show the environmental impact their products have, many of these companies were listening. Cook mentioned that, "the time for inaction had passed".
Cook has called on these companies to be more transparent with their customers by sharing with them the cost of their company's sustainability efforts. This will in turn, help customers make more informed decisions about the companies they purchase their technology from, and chose the ones that have more of a global perspective on climate and the effects their products have on the environment. There was a time when a conservative investor in Apple suggested this same thing to Cook, and Cook responded angrily. Now, he's embracing this same transparency.
Cook wants Apple to do their part to help the environment and address the concerns of the customers and the environment. He urges,
"Companies have to communicate to consumers about what they are selling, and they have to do it in a way that incorporates the whole of their footprint, not just one piece of it, that they are looking good."
So, has Cook and Apple only talked the talk, and not walked the walk? It turns out that Apple has been a leader of the pack. In order to address these environmental concerns, Apple has released an environmental checklist that goes alongside every new product. This checklist cites that the new product is free of toxins, recyclable, and energy efficient. They have also set goals for their facilities and data centers that includes ensuring that they are powered with 100 percent renewables and solar power.
They've have many naysayers when it comes to their plan. However, Cook is not swayed by them. Cook says that this new sustainability plan is not only good for the environment, but also for economics.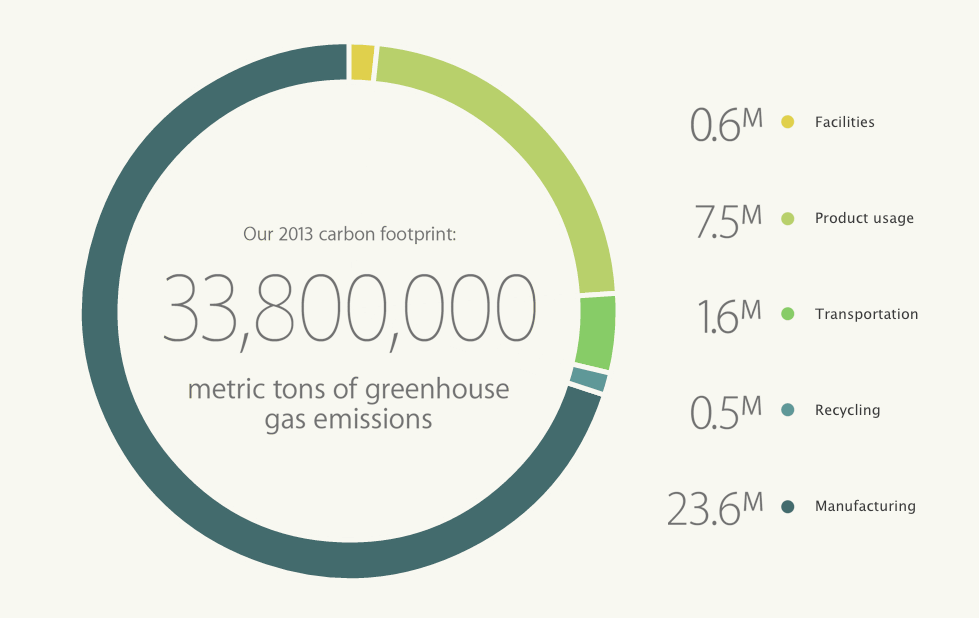 Apple's approach is to evaluate their entire footprint. They examine the amount of energy a product uses after it's purchased, and the manufacturing and recycling of that product.  This takes a lot of time and effort, and also detail. Cook has said that he continues to hear from doubters who say that Apple must choose between the economy and the environment, because the commitment is far too great to do both. To that Cook says, "What we found, both are doable. If you innovate and set the bar high, you will find a way to do both."
Cook believes that the consequences of ignoring climate change over a long period of time will be far too big to be ignored. And he wants his company, Apple, to be the frontrunner in the fight to bring more awareness to it. For him, it is not a choice of economics over environment. It's a no brainer to create a plan and a way to mesh the two together. Apple has created a plan, especially on the heals of debuting its new iPhone 6 and iPhone 6 Plus, where they will minimize its greenhouse emission gases by the year 2020. A lofty goal it seems, but one that Cook sees as valuable for the sustainability and livelihood of the next generation.
Apple's goal in climate change awareness is, "to be one of the pebbles in the pond that creates the ripple." And we all know that whatever Apple does, they are bound to have a following.