Even if you're a Mac fanatic you may not know that Apple offers its own networking and storage devices. Well they do and they work magically with your other Apple devices. The AirPort family of routers from Apple are designed to work with your Mac, iPhone and iPad seamlessly.
Apple's networking line consists of the Apple AirPort Time Capsule, AirPort Extreme and Airport Express. This product line can be confusing to some because of past models or technical differences. Lets take a look at some of those highlights and why you should think Apple AirPort before anything else.
Apple AirPort Time Capsule Review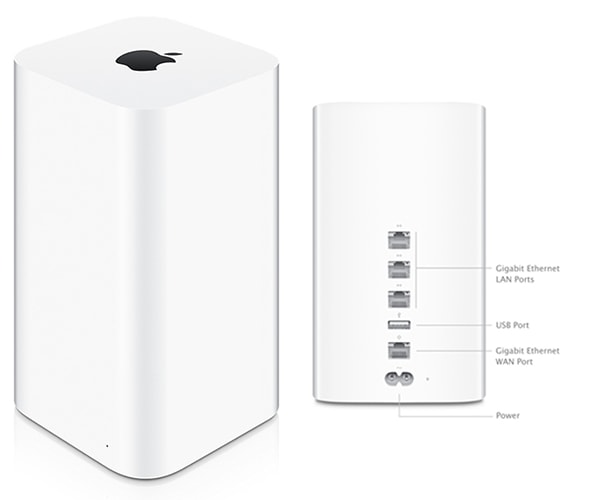 2TB-3TB hard drive that works with Time Machine in OS X to create a no-hassle backup solution
Also a full-featured Wi-Fi base station with the latest 802.11ac technology
New higher design which helps disperse your Wi-Fi signal
6.6-inch height; 3.85-inch square base
Easy Apple Time Capsule Setup for iOS and OS X
The Apple Time Capsule is similar to the AirPort Extreme Base Station except it offers 2TB or 3TB of storage. That might seem like overkill of storage but if you are a music or video enthusiast you'd be surprised how much data those files take up. Additionally if you have a family, every family member could link the the Time Capsule for storage and sharing. The Time Capsule works great with Apple Time Machine to backup your data.
Mac and PC users can enjoy the benefits of this router on steroids. You can easily connect printers as well. The Time Capsule comes with a setup assistant to make it easy for non-technical people. The Apple website lists the Time Capsule at $299-$399 but you can save significantly by buying it from Amazon which consistently lists them from $25-$50 lower based on which model you choose. ($299-399 USD)
Tip: Buy an AirPort Express and pair it with your Time Capsule to export digital audio to your T.V.
Apple AirPort Extreme Review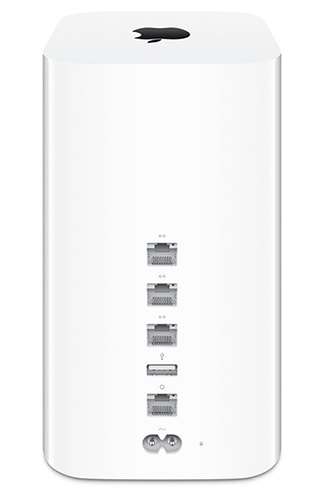 Ultrafast 802.11ac Wi-Fi; Reach data rates of up to 1.3 Gbps

Simultaneous dual-band 802.11ac Wi-Fi support

New 6.6-inch height with smaller 3.85-inch base

6 antennas located at the top allows for a faster and more powerful connection

Easy AirPort Extreme Setup with Macs and iOS devices. Please note: This product is a Router ONLY and requires a modem to operate.
The Apple AirPort Extreme is similar to the Time Capsule except it doesn't include hard drive space. Not having the hard drive space isn't a big deal if you already have an external drive to pair it with. This new updated Extreme is 3x faster than any of the previous versions. In short the AirPort Extreme helps you share your network connections, a hard drive or printers.
Again perfect for a family house or even a small office. If you want to connect multiple hard drives you can buy a usb hub for under $5. Like the Time Capsule the Extreme offers 3 Gigabit Ethernet Lan Ports, 1 USB Port, 1 Gigabit Ethernet WAN Port and power. The current model is a small tower where previous versions look similar to the Apple TV or Mac Mini in size. Don't bother buying the older model as you typically only save $10. The size and upgrades of the next generation are well worth it. ($99-199 USD)
Apple AirPort Express Review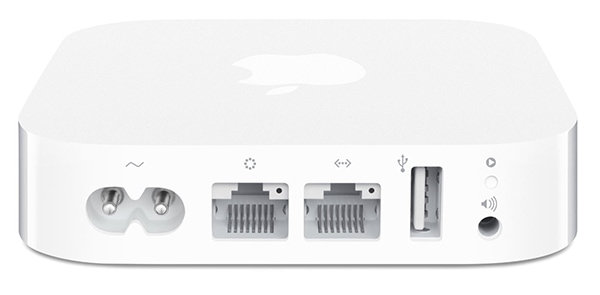 Easy Wi-Fi setup using iPhone, iPad, or Mac: Connect your DSL or cable modem to AirPort Express and create your new wireless network in just a few taps from your iPhone, iPad, and iPod touch. If you're using OS X Lion, use the built-in AirPort Utility on your Mac. Setup is just as fast and just as easy.

Simultaneous dual-band 802.11n: AirPort Express lets Wi-Fi-enabled devices connect to your network on the 2.4GHzand 5GHz wireless bands. Which means every connected device automatically uses the best band available for the fastest possible performance.

AirPlay takes the music from the iTunes library on your computer or iOS device and sends it wirelessly to any connected stereo or speakers in your home (audio cable sold separately). Play music on one set of speakers – or if you have more than one AirPort Express connected to speakers, play your music from iTunes on all of them at the same time.

Print wirelessly from any room: On the back of AirPort Express is a USB port that's made for your printer. Just plug it in and instantly, it's like having a printer in every room. And since AirPort Express works with Mac and PC, everyone in the house can take advantage of one centrally available printer

Compatibility and security: AirPort Express is compatible with devices using the 802.11a, 802.11b, 802.11g, and 802.11n specifications. So no matter what Wi-Fi device you're using, it willwork with AirPort Express. AirPort Express also features a built-in firewall to protect your network from malicious Internet attacks. 100-240V AC, 50-60Hz. Input current: 0.2 amp.
The Apple AirPort Express is similar to the Extreme version only a lot smaller and with some nice bonuses. The AirPort Express is small but can fit on the top or bottom of the Time Capsule or AirPort Extreme if needed. If you are an audio lover the you'll love being able to use AirPlay and control the music in your house with your computer or iOS device.
Secondly the AirPort Express comes with an Analog/Optical audio jack. The audio jack allows for a 3.5mm analog cable or a 3.5mm mini-toslink to toslink optical cable. Of course sharing internet connections, hard drives and printers are all possible with this small but powerful unit. The AirPort Express is a great router option because of its size, you can hide it anywhere. The Express is similarly priced to the Extreme ($79-99 USD).
Bottom Line
So there you have it three great Apple networking devices. Picking the right one is just a matter of deciding what is most important to you. Of course many people have been know to combine these units.
When looking at these units and comparing them to other similar not Apple networking devices you have to take in account the benefits of working with the AirPort line. Most if not all of those benefits always point back to the AirPort line working seamlessly with your OSX or iOS devices. In other words controlling your networking with your Mac, iPhone or iPad. Sharing music, movies and other devices is a snap with Apple easy setup and software.