The Amazon trade in program is one of the easiest ways to get cash for your old phone. If you're thinking about purchasing the latest iPhone there are many options when it comes to getting the best value out of your previous model. Some may pass it on to a family member, use AT&T and Verizon trade-in program or possibly even auction it off on eBay. But before you do any of those check out the Amazon Trade in offers.
The Amazon trade in program offers you an Amazon Gift Card in exchange for your phone or other electronic device.
The Amazon Trade in Process
The process is simple, first select the phone you wish to trade in and then answer a few simple questions about its condition. You'll be asked the following questions once your Amazon Trade in is selected:
Does the device power on?
Are there cracks or other heavy damage?
Does the device hold a charge and function perfectly?
Is your device still being financed through your carrier?
Are there any scratches or dents?
Has your device been removed from your online account (For example iCloud)?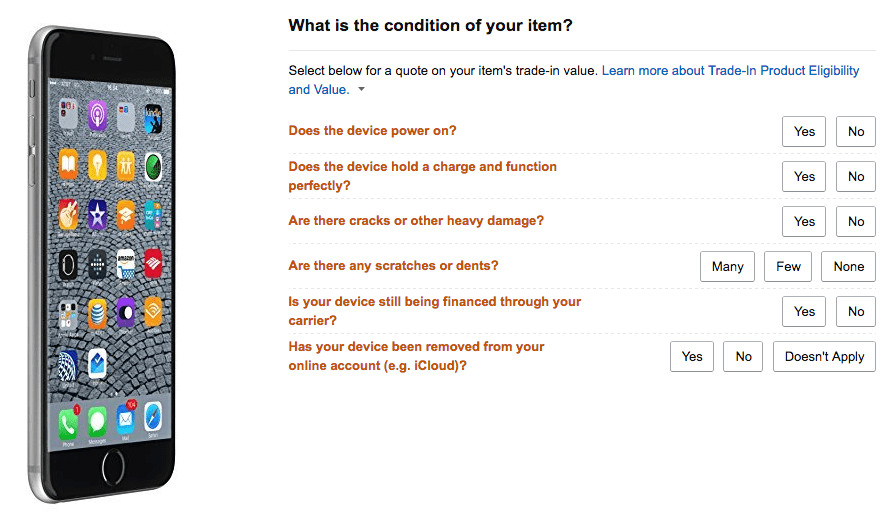 After answering those questions you'll be asked to review your order. Your trade-in value will be locked in and you have 28 days to ship your device. Once received Amazon trade in program has 7 days to review its condition. Once accepted the Amazon Gift card will be applied to your account. You can always track the process of being accepted or rejected in your Amazon trade in account.

The Amazon Trade in Conditions
Amazon will accept your trade-in if it meets the condition requirements for New, Good or Acceptable.
New: Brand new phone in perfect working condition and contains all original packaging and accessories.
Good: Normal wear and tear, phone is in good working order and display is flawless.
Acceptable: Phone is worn from use and shows signs of scratches, cracks and dents but phone remains in working condition and powers on.
Amazon will not accept your phone trade-in if:
Does not turn on

Phone is water damaged

Operating system can't be set back to original factory settings
Your phone is still being financed through your carrier
Your iCloud or similar account has yet to be removed from the phone
You'll receive a lower Amazon trade in offer if your phone is having trouble holding a charge, has numerous cracks, scratches, dents or other heavy damage. For example in our testing Amazon reduced the price of our trade-in as much as $165 for the most severely damaged iPhone that was still in working condition.
Amazon will produce a pre-paid label for you to print and ship your old phone. If your phone is not accepted there are no charges for return shipping.
For our previous model iPhone we received a total of $279 with our Amazon trade in. Enough to buy additional iPhone accessories like wireless headphones and a case. Of course you can use the Amazon Gift Card for anything of your future Amazon orders. In short if you are used to the ease of Amazon the
Amazon trade in program
is a great way to maximize the value of your older phone.