Apple users are very familiar with new iOS updates. So, it was nothing new when the new iOS 8 update was scheduled for all Apple devices. However, Apple's HealthKit apps could not be implemented when Apple's iOS 8 was released because of a few problems that occurred with iPhone 6 customers using the HealthKit apps. This made way for Apple to immediately release a new update called iOS 8.0.2.
Once the new update made way, Apple users were able to utilize the benefits of the HealthKit apps. One of those benefits was an app called FitPort, an app that tracks the user's health and fitness goals and limitations. So what exactly are these health and fitness goals and limitations? According to the company that created the HealthKit apps and FitPort app, the app will be capable of: tracking your running and walking distances, your dietary intake (including dietary goals and needs), active calories, body fat, and weight.
Having the availability and convenience of a health app on your phone that gives you the ability to track your health and fitness goals, checking off these goals once you've accomplished, and the ability to set limitations on these parameters is a win-win situation for both Apple and its users. Apple is able to once again implement a system utilizes apps that people can incorporate into their daily lives, thus using their iPhones and iPad for more than just phone calls and the occasional game. Apple users are also able to use technology in a new, innovative, and thoughtful way to not only communicate with others, but to also help themselves in their personal goals.
When using the FitPort app, if the Apple user chooses, the set parameters of health and fitness that they track can then be linked to the Health App. If users want to link this personal health information to the HealthApp, they will have to do so by giving written permission to the apps within the settings feature of the iOS. The FitPort app is used as a dashboard, or platform, for the user to check their health and fitness stats and also record these stats on their own by hand. Once this is complete, the user can then store this information on their secure Health app.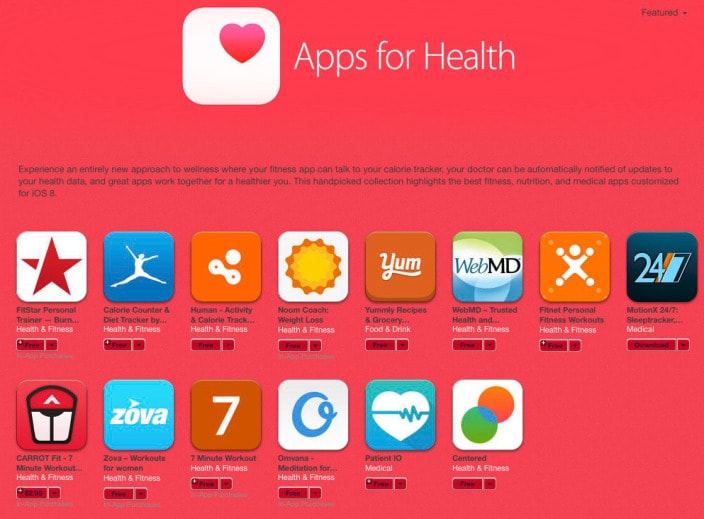 The HealthKit app is very functional, and will no doubt become popular. Although it is available to Apple iPhone users, it seems that Apple is being cautious about it since it hasn't featured HealthKit apps yet on its App Store page.