Evernote: it's an incredibly popular download, virtually everyone with a smartphone or tablet has at least tried it, and it often divides people. You either love it or just can't get into it.
To extend it's range beyond just being an iPhone or iPad app, Evernote is also available for OSX. But can the program really increase your productivity or is yet another app that claims it'll make your life simpler while really just wasting your time?
Those who swear by Evernote claim it's best approached with a "go big or go home" mindset. Use it to the full extent of its capabilities, for everything you can, or don't bother using it at all. When you only use a few of Evernote's features it can be isolated and confusing, but it becomes incredibly useful when you default to it for bookmarking, web clipping, recipes, business card storage, note taking and so forth.
While it's not the fastest app going, it is quite intuitive. Once you get into the habit of using it, Evernote becomes a valuable repository for all the information that comes your way each day.
Having the ability to access Evernote through both OSX and iOS apps adds to its usefulness considerably. If you're out at a meeting, you can take notes on your iPad and instantly pull them up on your computer when you return to your office. Or if you start a recipe book through the program on your iMac and see something at the grocery store you want to make note of, you can jot it down or take a photo with your iPhone and include it.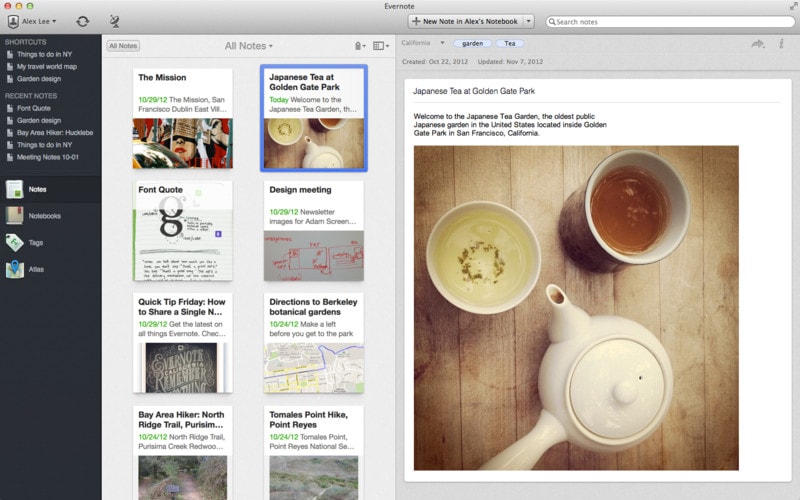 Evernote on OSX is also useful if you're making the transition to a paperless office. Using a scanner you can easily upload important documents, business cards and receipts then divide them into customized notebooks, according to content. From there, you'll have access to everything, whether you're at the computer or going mobile, and can add to the notebooks as needed. Don't be hesitant to create lots of them, too! Evernote on OSX is ideal for grouping and storing lots of information and uses a handy tagging system that makes it simple to find files at a later date. You can even link contextual information from different notebooks together for ease of reference.
Evernote for OSX is an ideal service for students, especially those who use the LiveScribe smart pen. LiveScribe pens allow you to write on high-tech paper and record sound in conjunction with it, then upload it to the Internet. LiveScribe has partnered with Evernote and allows uploading directly to your notebooks. Accordingly, students can take notes, keep them organized effortlessly and access them on a computer or mobile device. Within Evernote and LiveScribe you can even touch on any point in the notes and hear the sound that was recorded at the time it was taken – great for recalling what happened in class.
Don't think of Evernote as just a tool for school or business, either. While it is a vital tool for keeping track of client information, meeting notes and so on, it's also excellent for personal information. Use Evernote to organize recipes, health documents, photographs, clips of information from the Internet and more.
If you're considering trying Evernote for OSX, make an effort to use it to its fullest extent, including downloading the tablet or smartphone apps. While an extremely advantageous program, if you only use it a little or worse, devote a lot of time to setting it up then not stick with it, it has the potential to be a time-waster.